We make your trip when and where you want!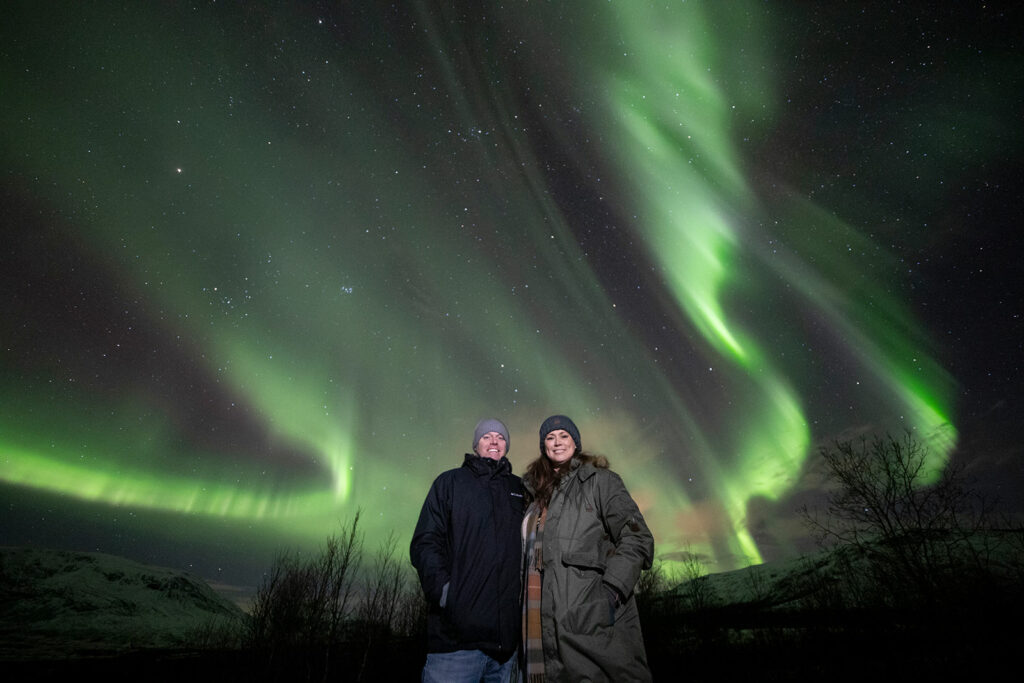 Tromso northern lights chase with 8 seats minivan
From September until April
Winter in Northern Norway brings amazing natural theater visible on sky during long polar nights-aurora borealis.
Already old cultures considered northern lights as one of the most extraordinary and spectacular experience which is never twice the same.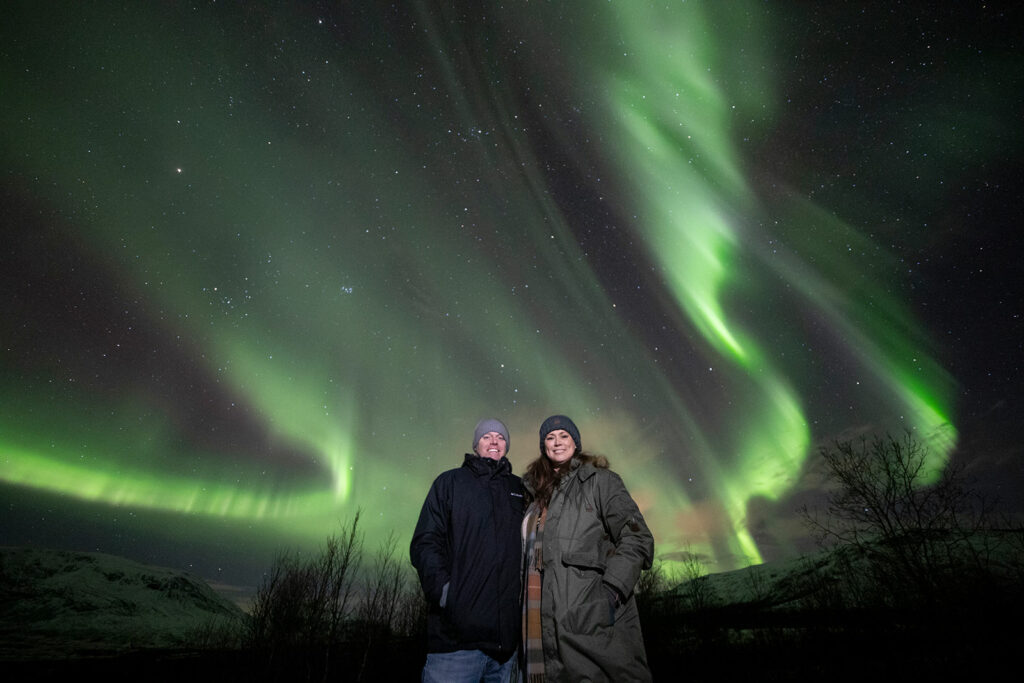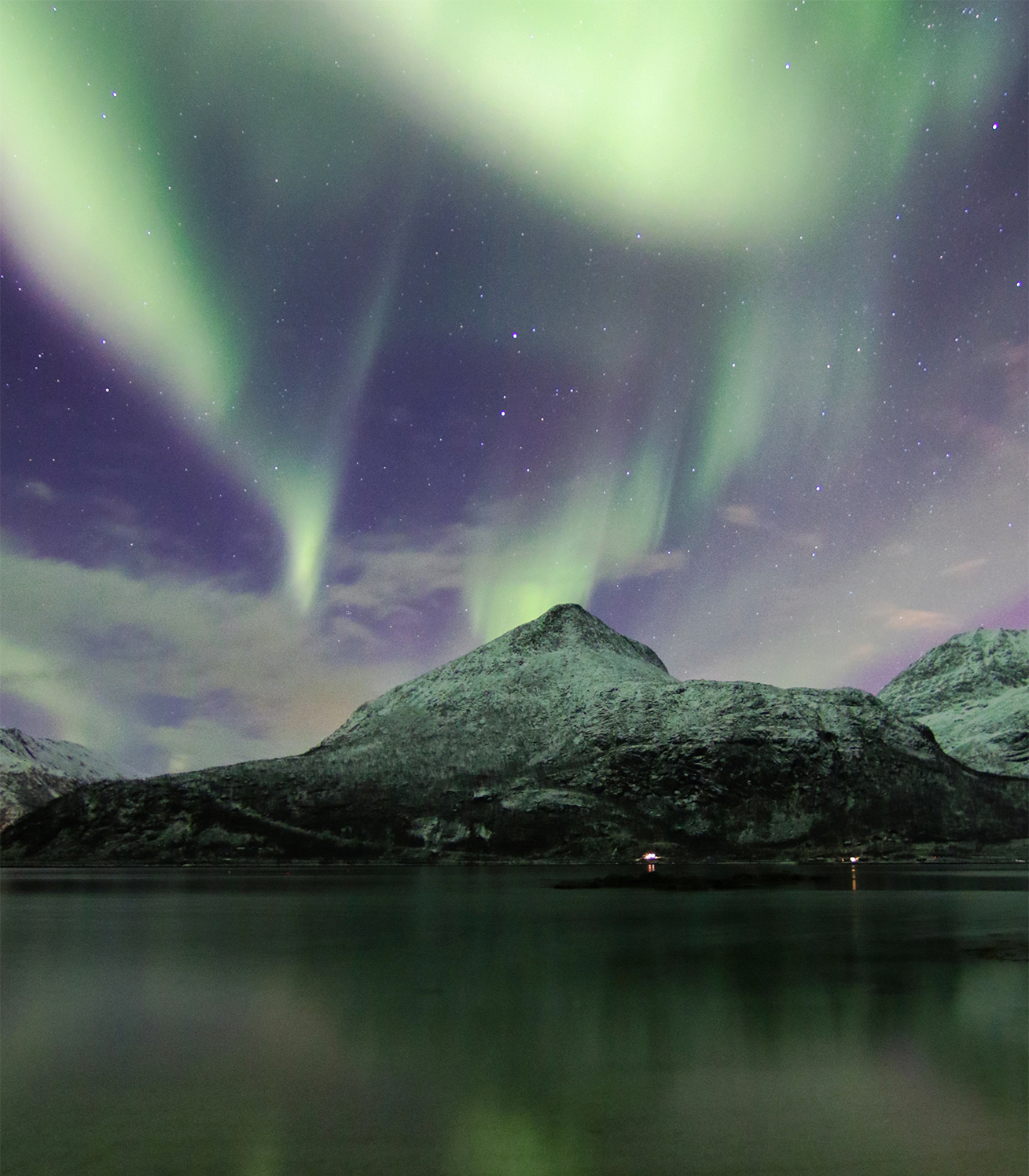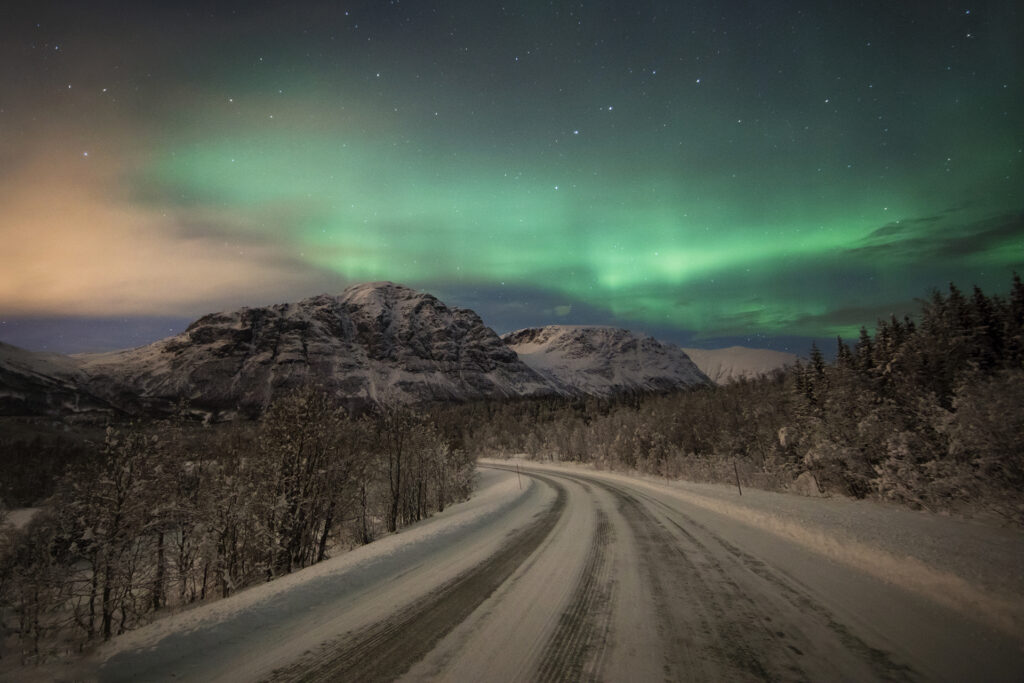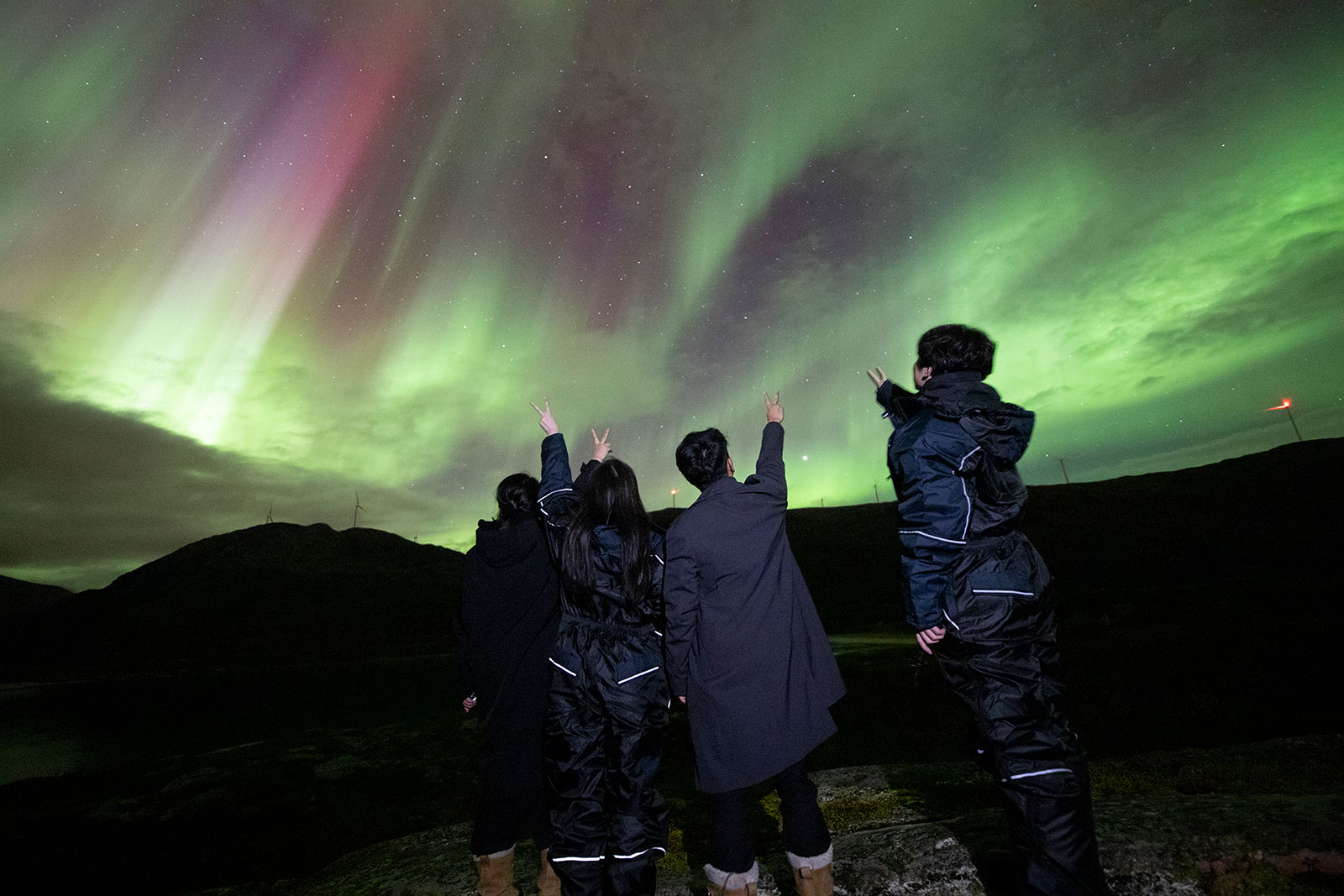 Our scenic journey is located mainly on Hvale island, passes through 3 fjords, majestic high mountains, small colorful fishing villages and offers spectacular views of white sand beaches and little, marvelous islands.
Our scenic journey is located mainly on Hvale island, passes through 3 fjords, majestic high mountains, small colorful fishing villages and offers spectacular views of white sand beaches and little, marvelous islands.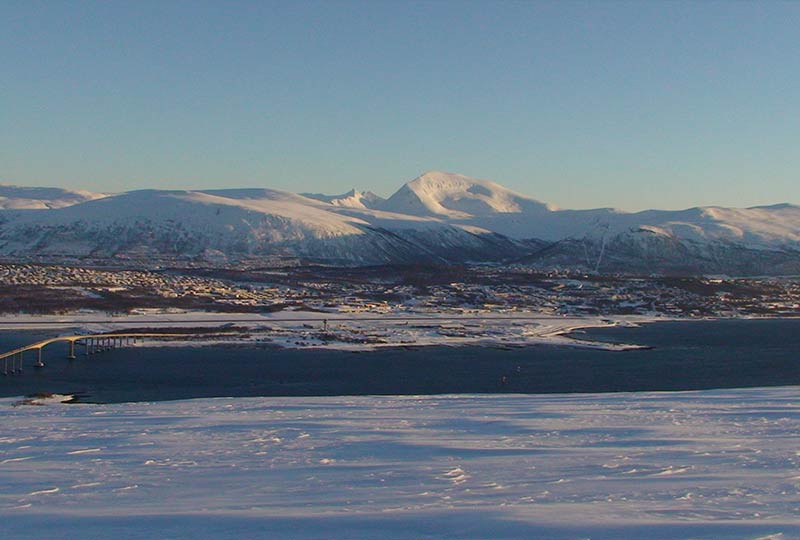 Sightseeing Tour
We would like to present to you the most interesting places and local attractions of Tromsø during our 2-4 hours tour.
We are a flexible company who will make your trip when and where you want. 
Our main regular activities are; small/private guided groups of northern lights tours and fjord tours (up to 8 passengers). Flexible tours on request; city and fjords sightseeing, scenic photography tours, shore fishing/grilling, easy mountains hiking and relaxing grilling trips on marvelous sandy beaches. During the short summer period we can offer you midnight light/sun tours as well.
Verified
Brilliant Northern Lights experience with Flexitour We booked a Northern lights tour with Flexitour in advance of our cruise ship arriving in Tromso, so it was a complete risk as to what we would get. Absolutely, you can book this company with complete confidence that you will be looked after and receive top service from Daniel the guide.We has a fabulous evening in the company of 5 other passengers from our cruise. Daniel supplied all the necessary boots, foot warmers, cold weather gear etc to make us all snug as a bug. He also provided a fire pit food he cooked on it and plenty of tea, coffee and hot chocolate.We had a spectaular showing of the Northern Lights and all had our photos taken with the lights in the backgound. Daniel also supplied tripods for those of us that forgot to bring them. We have also received all the photos Daniel took of the lights, including a great time lapse sequence. Nothing was too much trouble – Great value for money and personal service. No hesitation with booking with Flexitour if we ever go back to Norway.
Verified
Great Northern Lights experience In October, I booked a tour with Flexitour to see the Northern Lights. The contact in advance with Daniel, who also ran the tour on 29.10.2022, was very nice. Due to bad weather conditions in the Tromsø area, Daniel drove our group to Finland, where we had a cloudless sky and could see the Northern Lights at their best. Daniel also took photos of the Northern Lights and the trip participants standing under the Northern Lights. The photos were then made available the next day via a link for viewing or downloading. I can only recommend everyone to book a tour with Flexitour to see the Northern Lights. Daniel was a very nice and great guide and the tour was certainly a great experience for everyone.
Verified
Great evening with Aurora It was a great evening with our guide Daniel! We were lucky that weather forecast was pretty good, that we only had to drive to Sommarøy. As Daniel found a good place to wait for Aurora, we made a bonfire and food and hot drinks were served. I told Daniel before, that I have a few intolerances and he brought special food for me – very nice! The sky got more clear that we were lucky to see first light Aurora. We stayed at the place for some time and Daniel took few pictures of us. On the way back to Tromsø, we made few more stops, as Aurora was getting a little bit stronger. It was a very great evening with a very nice guide. Daniel had much knowledge of Aurora, weather, stars and a bit norwegian history. I highly recommend this Ttour!
Verified
Incredible Northern Lights Adventure This was the highlight of our trip to Tromso. Daniel is incredibly knowledgeable and kind, and a top-tier tour guide. We appreciated how Daniel is very upfront about the chances of seeing Northern Lights. If the conditions are not right, he will help you pick another night and reschedule. Not only did we see amazing northern lights, but Daniel helped us set up our cameras and took professional pictures of us as well. He also made sure we had a great experience by setting up a fire, making sure everyone was well taken care of, and even shared local delicacies of his home country. All in all, this was a fantastic experience and one that we hope to have again. Can't recommend Daniel and Flexitour enough!
Verified
Amazing night by the amazing Daniel ! If you want to hunt northern lights with a caring and professional guide.. You got all here with Daniel ! From the reservation process until the beginning of the activity , Daniel is constantly doing everything that the expererience is comfortable, safe and successful. Based on the weather conditions , he took us to the Grotenfjord. It was the 3rd time we were seeing Northern lights , but this was by far the most intimate and comfortable of all we had before.The site was gorgeus ( right by the fjord ) , all the setting very comfortable and well organised. Chairs..Reindeer blankets to keep warm..Great barbecue.. Drinks.. Camp fire and of course the amazing views of the Aurora.Daniel was constantly making sure we were comfortable and well care of.His predictions of intensity and viewing of Aurora were spot. If you want to have a private and intimate Northern light experience…Stop searching.. Daniel is the deal.And forgot to mention the quality of his photos and speacially the time elapsed movie.Breathtaking…
Verified
Fun Adventure Chasing the Lights! The weather in Tromsø was raining, so Daniel put us on a trek to Finland. It snowed the majority of the trip, but when we got to Finland, the weather cleared and we had a phenomenal time observing the aurora. He set up a fire and cooked for us while we marveled at the lights and the night stars. He also had cold weather gear for those not quite equipped for the weather. A wonderful trip we will not forget!
Verified
Craziest NL chase Initially booked the NL tour with another company, but due to bad weather cancellation, on the day we booked, was offered us the possibility to be transferred to Flexitour the next days. We had the craziest NL chase. Daniel put a lot of effort trying to make our experience one of a kind and to make most out of it. He drove nearly 3 – 3.5 hrs to different places, discussing and consulting several other guides in order to find the best spot for capturing the NL. He made also bonfire and cooked for us sausages and vegetarian schnitzel, provided boots and thermal suits. Even though the sky was pretty clear on some places the Aurora activity was very low unfortunately, being also at the end of the season. However, Daniel went extra mile and eventually captured a glimpse of shy NL for 1-2 minutes, making some nice pics. Really recommend.
Verified
Wonderful nature with Polar lights Daniel is great so kind and gentle, wonderful guide and good photographer.He drove with us all the way to Finnland because it was cloudy around Tromso.We could see the northern lights, had an amazing dinner by the fire and visited another country too.We had fun and great conversations.We would love to do this tour again and can recommend it with all our heart.Daniel is dedicated to make this a great experience for everyone.
Claus Mygind R
2022-03-21
Verified
Magic and Unforgettable Northern Light Tour – Excellent Guide If you want to explore the Northern Light in the Tromso area, please do yourself the favor and book a tour with Daniel from Flexitours. Daniel was very well prepared and despite challenging weather conditions he managed to find great Northern Lights for us. On top Daniel was an extremely kind and caring guide who was doing everything in his powers to give us an unforgettable tour. He supported with warm clothing, great tasting food and drinks and kept us up to date on the forecast and what we could expect. We brought our two teenagers along and they were both super excited about the experience. On top Daniel took a lot of great photo's and videos that he shared with us the day after the tour. He taught me as well how to configure my own camera to capture the northern light. All in all Daniel gave us the time of our life and he will forever be a legend in our family. We all give him our warmest recommendations.